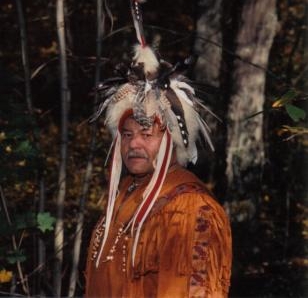 Cheif George "Silverwolf" Jennings

"Aho", let us give thanks and remember the ancient ones, our ancestors, and our elders without whom we would not be. Let the will of the creater be done. let this website be a tool that will contribute to the historical, cultural, and humanitarian goals and mission of the Seaconke Wampanoag Tribe.



Welcome to Seaconke Wampanaog Tribe.org. Please explore our website and learn more about our tribe. I look forward to meeting and spending time with you at one of our many public and tribal functions.




George "Silverwolf" Jennings
Nikkomo
Date: Sunday December 16, 2012
Time: 1-4:30pm
Place: R.I. Indian Council
807 Broad St.
Providence, R.I.
Please share with other citizens/members. If you know of any person that needs or wants a ride, please forward me their name, address and a phone number where we can reach them. It will be a pot luck and $10.00 limit on Kids and Adult Gifts and a non-perishable item for the love basket. I hope to see many of you there!
Council Oak
Dighton Intertribal Indian Council
Contact: Grey Fox 1 (508) 646-9096
Council Oak of Dighton, Ma - "Needs your help"
This time they want to make a "gravel Pit" on the property behind the Council Oak Tree. This property is a sacred native field home land to native peoples for 7-8000 years. Come protect the heritage of the next "seven" generations.
Watch for up coming meeting dates posted on this website of the selectman of the town of dighton. Come voice your opinion and bring
any native artifacts that may have come from that field or the Council Oak.
Your attendance will be greatly appreciated and your voice may make the difference!
Twitter
The Seaconke Wampanaog Tribe is now on Twitter.
Join the Seaconke Wampanoag Tribe on Twitter,pictures, news, bulletins, information up to the minute at

SWTribe@twitter.com
Facebook
Join the Seaconke Wampanoag Tribe on Facebook. Talk to tribal family and freinds on Facebook.
Summer Newsletter
The tribal Sommer 2011 Newsletter is now Available. Go to tribal news and press the button titled "Summer Newsletter 2011". The tribal spring newsletter will be down loaded to your computer. The spring newsletter includes all meetings dates, times and places for meetings held in July, August, and September.
2012 Projects
This upcoming year brings new thoughts, Ideas, hopes, and opputunities. Below are listed 3 new ventures that have been presented to the tribal council that with your help will be developed, and bare fruit this year.
Food Services
- The purpose of this oppurtunity is to develop tribal independence in presenting food services at powwows, socials, and other tribal events. Contact the tribal office or the tribal coordinator to offer your help. Tribal cordinator is War Chief Edward Lincoln.
Wiffle Ball Tournament
- The purpose of this proposed function is to raise funds to help further develop tribal oppurtunities. If you would like to participate in, or help develop this function please call the tribal office or contact citizen Derek Jennings.
Corporate Development
- This ongoing campaign will continue this year with the added help of you. Please contact the tribal office or Director James Rawlings of this growing program.
Help!!!
It takes very little of your time but means so much to so many. Why not take a minute and help along the process of attaining our tribal goals. How can I help? By choosing a committee, department, or event to work on. Remember a little bit from a lot of people goes much farther, last so much longer, and has more meaning than a lot of effort from a few.
Be apart of something "Great" and do it your way! How do I start? There are multiple ways to get started;
Attend a monthly meeting

Call the office 1 (508) 336-8426 and simply ask "What can I do to Help".

Review the website for news, meeting dates, and info.

Then Attend, everyone is welcome.

Call the 24hr line, e-mail

Talk to a tribal leader
The best way to get started though is to Just do it!!!
On the Web
:Broadcasting 24/7/365
News and Information:
When you need to know turn to the source, 24 hours per day, 7 days per week, 365 days per year, sponsored by the Seaconke Wampanoag Tribe.

This website is dedicated to the broadcast of news and information pertaining to the decendents of the "Black Goose" tribe of Annawan, inhabitants of Seaconke,Pokanoket Territory, Wampanoag Nation. C